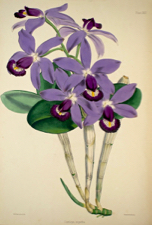 TOF3206
Cattleya violacea `Orquiven' x self.
Venezuela to Bolivia.
Medium size hot-to-warm growing epiphyte. Long-lasting fragrant flowers that open up very flat. Rich lavender color, especially the lip and column. It is found along low-elevation rivers, in chosen locations, over a 4 million square kilometer area. Often growing on branches out over the water , where the plants benefit form the rising moisture, but also brighter light reflected up from the water. We are excited that we now are able to easily grow this species, using our "empty-pot method". Limited. Botanical print by Walter Hood Fitch (1817 - 1892), illustrator, Robert Warner (1814-1896) and Benjamin Samuel Williams (1822-1890) editors [Public domain], via Wikimedia Commons.


Purchase