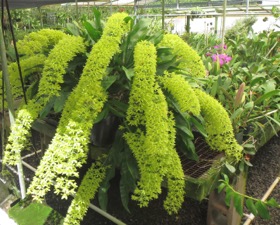 TOF3028
Grammatophyllum scriptum var. citrinum x self.
Borneo, Philippines, Fiji.
Large hot-growing species puts on tremendous displays of long-lasting flowers on beautiful sprays. 2" closely-spaced flowers are green or yellow-green, and are sometimes carried up to 100 on a spike. Our big plants (that we keep for our big orchid show) will have 10 -20 spikes. This is really good for the Show at the beginning of October - we can count on having these in bloom, and because they are long-lasting, there is some leeway with the timing.


Purchase