The orchid flowers in our garden mark the seasons. With more than 90 orchid species now established there is often a beautiful display. Though still in its infancy, the botanical garden is taking shape, and some orchids are already specimen size.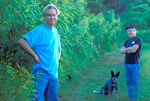 The concept for the garden is unique — devotion to orchids is matched by a love for the native plants and trees of Hawaii.


(Photo: Endemic Hawaiian Koa trees, planted only two years ago will soon be towering overhead)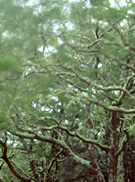 The crisis of extinction in these islands reflects the tragic loss of forests around the world. Raising awareness with forest restoration work and the garden of threatened orchid species and Hawaiian plants is our endeavor.

(Photo: Healthy, but endangered Hawaiian Koa dancing in the wind)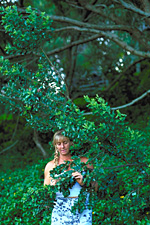 `Iliahi — the endemic Hawaiian sandalwood was once a prominent forest tree on all the islands. The fragrant wood was so highly prized it set in motion, at the beginning of the nineteenth century, an international trade based on cruel exploitation.

Ship owners made fabulous fortunes, the chiefs went into debt for warships and luxury goods, and Hawaii's people and forests were devastated. The laborers are said to have pulled up sandalwood seedlings wherever they could, hoping to end the trade. Today several of Hawaii's sandalwood species are on the verge of extinction.